The Baja No Pinch Tool: A Time-Saving and Effortless Way to Change Your Motorcycle Tire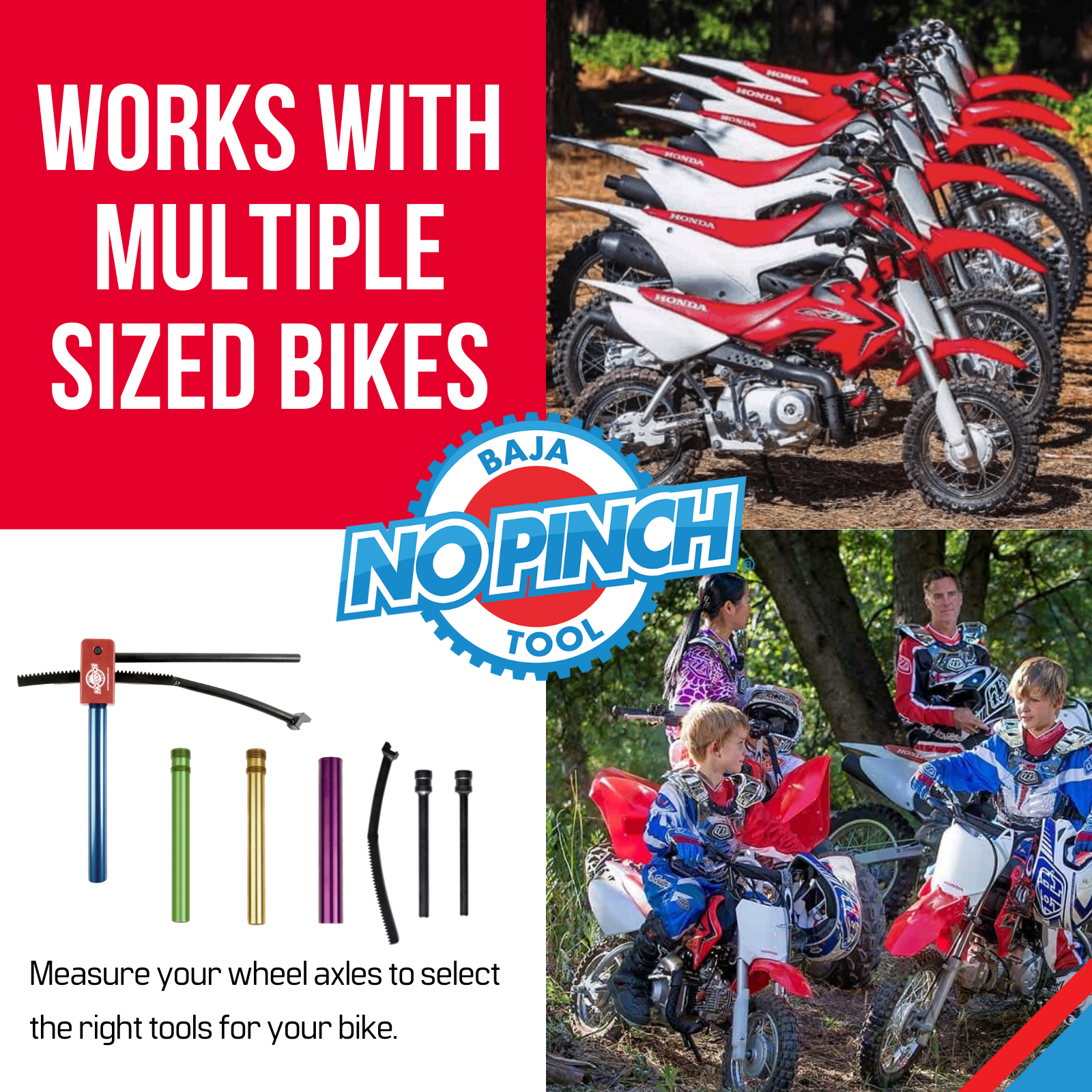 When it comes to changing motorcycle tires, efficiency and ease are crucial. Introducing the Baja No Pinch tool, the ultimate solution for hassle-free tire replacements. In this article, we will explore how this innovative tool, designed specifically for motorcycle tire changing, can save you time and effort while ensuring a seamless and efficient process.
The Baja No Pinch tool revolutionizes the way motorcycle tires are replaced. With its advanced features and user-friendly design, it simplifies the entire process, making it accessible even for beginners. This motorcycle tire changer is engineered to save you valuable time and eliminate the frustrations commonly associated with traditional methods.
Crafted with American-grade quality using aircraft aluminum alloy and black oxide treated steel, the Baja No Pinch tool guarantees durability and reliability. Its robust construction ensures that it can withstand the demands of various terrains and riding conditions, making it the ideal companion for motorcycle enthusiasts.
The Baja No Pinch tool offers a complete tire-changing solution with its comprehensive kit. This kit includes the mini pushrod, 10mm and 12mm axles, and other essential components necessary for replacing motorcycle tires of different sizes. No matter the make or model of your bike, this tire-changing kit has got you covered.
With the Baja No Pinch tire machine, you can say goodbye to expensive service fees. This cost-effective tool ensures that you can handle tire replacements conveniently in the comfort of your own garage. By investing in this high-quality motorcycle tire changing tool, you gain the freedom to maintain your bike's performance without breaking the bank.
Imagine the freedom and peace of mind that comes with having the Baja No Pinch tool at your disposal. No longer will you have to rely on others for motorcycle tire replacements. Instead, you can confidently hit the road, knowing that you have the necessary equipment to handle any tire emergency.
Changing motorcycle tires should be a straightforward and effortless task. With the Baja No Pinch tool, you can enjoy a time-saving and seamless experience. Invest in this superior motorcycle tire changer and elevate your maintenance routine to a whole new level. Visit our website and explore our range of Baja No Pinch tire tools to embark on a journey of effortless tire changes.
Keywords: motorcycle tire changer, dirt bike tire changer, bike tire replacement, motorcycle tire machine, motorcycle tire replacement, motorcycle tire installation, baja no pinch tire tool, motorcycle tire changing tools, replacing a bike tire, tire machine for motorcycle, baja no pinch ultimate tire tool kit, tire change kit, tire changing kit, dirt bike tire mounting tool